COVID 19 Testing
WHAT:
Lititz Apothecary is proud to offer COVID-19 Saliva PCR Testing
This is first test authorized by FDA for emergency use authorization
Test is performed on Thermo-Fisher Equipment at Laboratory
This test is GOLD standard and is 99.98% accurate
48 hour turn-around-time from time the tests is taken
Results returned to patient via email link
HOW:
Patients NEED to register on www.rxcovidtest.com prior obtaining test or arriving. Enter all required information including ID and insurance card
For Curbside testing: arrive to pharmacy parking lot (DO NOT ENTER THE STORE) call the pharmacy at 717-626-2222 and notify a team member you have completed the online registration and you are ready for your saliva to be collected
Fill tube to the line with saliva and add the inactivatory
Place the sample in provided bio-hazard bag and hand back to pharmacy team member and will provide a specimen receipt
We will overnight FedEx the sample to the lab and results will be made available via email provided during registration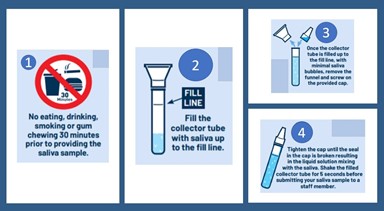 WHO:
No minimum age requirement!
COST:
No cost to the qualified patient. Qualified patients are patients with 3 of the symptom questions answered YES OR "you where or have been in contact with Covid-19".
Can I obtain this for my business?
Yes, please call the store to inquire regarding.